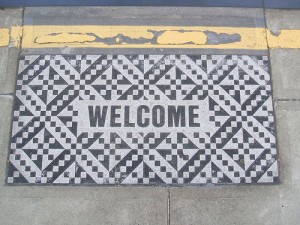 With the increased popularity of the Internet, increasingly more Americans are working from home on a regular basis. Many small companies are run entirely from the business owners' homes. With valuable business and financial information being stored in your home office, as well as costly office equipment, it's essential to practice good home security, as well as have a sound home security system, to protect yourself and your business. What follows are some tips on how best to protect your home office from criminality.
Visibility. Even if you have a professional home security system, it's a proven fact that criminals are deterred by buildings that are clearly visible from the street or neighboring buildings. Make sure your windows and doors are unobstructed by trees or bushes, and don't offer any cover for criminals looking to enter.
Be vigilant with your keys. Never hide a spare key under a flowerpot or under the doormat. It's the first place a burglar will look. In addition, always keep track of who has a key to your home office. If you have employees who work with you in your home office, be responsible before giving them a key. Not only your home office and livelihood are at risk, but oftentimes, anybody with access to your home office also has access to your home and private information. Misuse of your key could put all your belongings, as well as your life, and the lives of your loved ones at risk.
Make sure your computer is protected. Install passwords to start up the computer and wake it from sleep, and make sure to change them regularly. Never save passwords to restricted websites, such as online banking site, on the computer. In addition, make sure to install a good firewall and anti-virus program on every computer on your network. Computer hacking is big business nowadays, and hackers can actually break into your computer from anywhere in the world if they break your passwords, and it's virtually impossible to trace who emptied your bank accounts or charged your credit card if all the used information is correct.
Invest in a home security system. It's relatively cheap and simple nowadays to install a basic home security system yourself. The DIY home security market offers anything from door and window sensors, to surveillance cameras and home safes that can be installed without expert knowledge. However, for maximum security, it's always best to contract a professional to install and monitor your home security system.