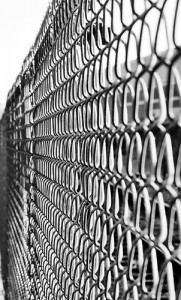 A front or back yard offers space around the home, a place for you to relax, your kids and pets to play, and a sound and vision buffer between your home and the rest of the world. However, without a sound fence, a front or back yard is a significant liability to your home security. Yards, especially those that are landscaped with beautiful shrubs and trees, offer cover for criminals looking to gain entry to your home. Whether you live in a high crime area or not, a yard without a fence leaves your home literally exposed to crime. For this reason, home security systems usually start with making sure your yard is secure. Even if you don't have the money to invest in a professional home security system with a monitored response service, you can significantly enhance your home security by building your own fence. So what do you need to consider before investing in a fence for your front or back yard, or both?
When deciding what type of fence is right for your home security, consider which aspects of a fence are most important to you. Obviously, you want to keep intruders out. But if you have pets, or small children, you'll want a system that keeps them in and stops them from running out into the road. Your fence will have to be high enough to pose an obstacle for anybody to jump or climb over. If you want complete privacy, a fence that is too high to see over offers maximum security, but also obscures your view of the road from your home. Though this can be a comforting feeling for some, others may find it unsettling to not be able to see what's happening outside. Obviously, there are many types of fences, and not all of them have to obscure your view of the outside world. Most wooden, concrete and stone fences will, but they also offer more options to combine a decorative touch with a home security function. Chain-link fences and vinyl fences allow full range of vision, but limit your privacy.
Your budget will play a large part in determining what kind of fence you choose. Some fences are relatively easy to install and maintain yourself, such as wooden fences and most vinyl fences. Chain-link fences, stone fences and concrete fences are all more complicated to construct and require regular professional upkeep. The area the fence needs to cover will also influence the costs significantly. In addition, if you want to integrate your fence with an existing home security system, you'll need to install sensors on or around the fence. Though it's possible to do this yourself, it's best to have a professional home security expert do it for you.