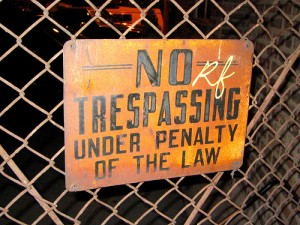 When protecting your homes safety, home security systems are of course an ideal solution.  However, if you can't afford to install an alarm system right away, there are some great things you can do very inexpensively to avoid becoming a target for criminals looking to burglarize your home.  You can easily purchase good looking alarm system yard signs online that will give people the illusion that a reputable alarm system has been installed in your home.  Sometimes faking the fact that your home is armed with an alarm can be enough to deter a break-in.
Alarm system stickers can also be used on visible windows and doors to further give the protective appearance of a home security system.  There are all kinds of deterrents one can use as a homeowner.  Never underestimate the power of a good front yard sign to help alleviate unwanted thieves trying to enter your home.  Allow the sign to speak for itself.  Obviously, keeping the shades drawn at night and utilizing targeted motion lights are a no brainer, but most residents like the idea of having a good deterrent such as a sign to place in their front yard. Make sure to have the sign clearly visible and position it effectively for everyone to see.  You can purchase fake alarm signs and stickers online at places like Ebay or from a well known security store like Security 2020.   They even feature fake security cameras that help to bolster your deterrent efforts.
Even the best looking alarm system signs won't stop a determined thief, but it can help in reducing the odds of becoming an easy target.  Criminals will naturally seek out homes that are considered "easy scores" over ones that clearly appear to have an alarm system.  That's where yard signs can do the job for you.   Crime prevention can start with a good quality sign or sticker.
There are also a number of other deterrents that homeowners can use to their advantage.  For instance, placing a large dog collar, leash and water dish outside of your door can make burglars think twice about entering.  Most criminals won't even consider breaking in to a home where there is a dog present.  Taking a realistic looking approach is your best and most inexpensive defense in the protection of your home.
Getting to know your neighbor can also have its advantages.  If you are on good terms with your neighbor and find them trustworthy, make them aware when you are going to be away from home.  Having another set of eyes watching your home is a great way to stop crime, especially at night.  It's like having an alarm system watching the outside perimeter of your home.  Nosy neighbors can make great free home security systems.  Employing common sense security devices like yard signs, sticker decals and other methods will help you take control of your homes safety and give you a defensive edge.
Photo via pjchmiel