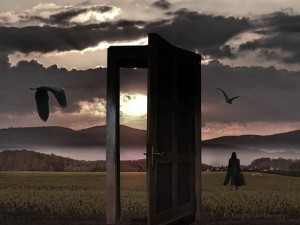 According to home security statistics from the FBI, every twelve seconds an American home is broken into through its own front door, and seventy percent of all break-ins start with the intruder kicking in the front door. Unfortunately, in many of these cases, the residents are still at home. It is obvious that making sure your front door is secure and monitoring who has access to your home are essential requirements of a sound home security system to protect you and your property both when you're away and at home. For this reason, many people install a video door phone as part of their home security system. A video door phone consists of an outside camera that, when activated by the door chime, sends a signal to an inside monitoring station that displays a real-time video of the front door area. This simple system allows residents inside to see visitors before opening the door, minimizing chances of unwanted intruders entering.
There are a number of aspects to consider when choosing a video door phone. For a DIY home security system, a wireless system provides quick and easy installation. Hardwired models are usually best installed by security experts, as part of an extensive home security system. When choosing the camera for your video door phone, always make sure the camera is reliable and offers enough resolution for you to clearly see who's outside. The most basic models are black and white, while more expensive models offer high-resolution color images and even night-vision applications. Besides basic models that include the video screen in the door phone itself, there are systems that hook up the video door phone to a larger screen, send the images to your pc, or both.  Sometimes, an extra camera is added on the inside of the entrance for extra security.
To communicate with the person outside your home, you can choose between basic models, models that include a normal phone for emergency calls, and models that feature more advanced technologies, such as convenient hands-free options and options to forward the door phone to your cell phone. To ensure extra security, most video door phones have an automatic release time of between 30 and 90 seconds to prohibit unwanted visitors from slipping in unnoticed after a guest has entered. However, some models don't offer any automatic release and require that the occupant physically unlock the door to let somebody in.
With a well-installed set of electronic eyes on the other side of a secure door, you can be the judge of who gains entry to your home.
Photo via h.koppdelaney