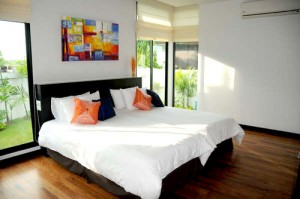 An increasing number of property managers and rental housing owners are struggling to make ends meet in the current harsh economic times. Many of them seek ways to cut costs in order to maintain a certain profit. While most rental housing owners and managers are reluctant to skimp on maintenance, many of them question the necessity of providing a good home security system for each unit they rent out.
The reality is that making sure your rental property is equipped with a good home security system is a smart business move. Research proves that new tenants want housing that is affordable, hygienic, conveniently located and, above all, safe. If your property meets all these requirements, you're more likely to attract good tenants who renew their leases, abide by your property's rules and regulations, and cause less damage to your property. A good security system leads to fewer tenants moving out due to feeling unsafe, whereas lack of security causes good tenants to move elsewhere and marginal residents to move in.
In addition, the absence of a home security system is an opportunity for criminals. If a tenant of an unsecured property suffers personal injury due to criminal violence, or his belongings are stolen or damaged, chances are a court will hold the landlord liable if the tenant decides to take legal action. Besides the legal costs, the press coverage of such law suits are often extremely harmful to a landlord's reputation and can even cost him his business. In cities and states where the law decrees that landlords must provide adequate security, a rental housing owner or property manager can be forced to bring the property up to code within a certain period of time. Failure to comply with municipal mandates can result in fines, revocation of occupancy permits or even criminal sanctions.
It's evident that it's in every rental housing owner's interest to ensure adequate security for his tenants. Fortunately, this doesn't have to be that difficult. Local police departments, as well as organizations such as Crime Free Programs, offer crime prevention programs for rental property professionals. These inform you how to recognize your rental property's weaknesses, and how to implement a step-by-step program to implement a sound security system, partner with your local law enforcement, and manage and maintain your property's home security system. You'll also learn how to keep your tenants involved in your property's security, as well as how to react in the event of a breach of security.