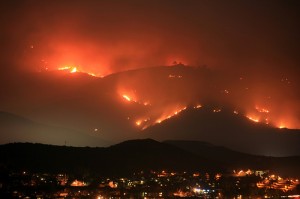 Many homeowners install a home security system that detects burglars, break-ins, smoke and fire within the home. However, there are a growing number of areas in the United States where the outbreak of wildfires is a very real danger that can quickly surprise and overwhelm existing home security systems. According to 2009 USFA fire statistics, 3,010 civilians lost their lives as a result of fire, with direct property losses estimated at $12.5 billion. In the same year, there were 78,792 reported wildfires that destroyed 5,921,786 acres of property. And maybe the most sobering statistic of all is that more Americans lost their lives in fires than all other natural disasters combined. Traditionally, home security systems have been designed to look inwards, from the property to careful monitoring of the home itself. But recently, to combat wildfires and protect you, your loved ones and your property, new technology has been developed that looks outside of your property for any signs of fire.
The new FlameSniffer Technology is an early-warning system that constantly screens the area around your home for signs of smoke, ember and fire. By installing multi-sensor wireless sentry posts along the perimeter of your property, constant up-to-date information can be sent as texts to your cell phone, computer or even as email alerts. With its advanced technology and transmissions between sentry posts, the FlameSniffer can exactly pinpoint the location and direction of a fire. In the event that a wildfire is detected, the FlameSniffer sends instant notifications to the homeowner, as well as to the local fire department. If installed, the FlameSniffer activates an automatic sprinkler system to combat the fire until the fire department arrives. The FlameSniffer can easily be added to your home security system to provide you with the protection you need.
In case the emergency services don't arrive in time, Firebreak Systems offers a solution that will protect your home and property, even if it's surrounded by wildfire. Firebreak Systems use Phos-Check, a phosphate-based liquid with powerful fire retarding properties, to spray onto bushes, trees, wood, grasses and other cellulose materials. When this solution is heated by flames, it reacts with the cellulose matter to create water vapor and surface char that very effectively halt the advance of the flames. The beauty of this system is that you can treat your property at the beginning of the wildfire season, and the Phos-Check solution will remain effective until it's washed off by rain or otherwise disturbed by water.
Photo via slworking2