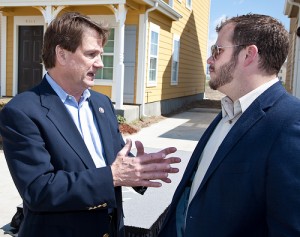 Home Security systems are a valued part of home protection and are used for more than just possible break ins from would be burglars.  They also offer useful medical and fire alerts if your home encounters a medical emergency or a fire.  In addition to their preventative alert features, they also offer a deduction on your home insurance rates.
Depending on which home security system you choose, they can range in price from $99.00 all the way up to thousands of dollars.  Generally speaking, home security systems contain the use of a motion detector and a keypad.  Protecting yourself and your belonging is reason enough to purchase a home security system. In the past, home security systems were seen as a luxury, now they should be considered a necessity.   Crime is arbitrary and should not be underestimated even in the best of neighborhoods.  Thieves are constantly changing their tactics and home invasions are becoming more prevalent due to acts of desperation in gaining access to drugs and money.
If you do not want to purchase and be dialed into a specific alarm companies monitoring system, you can install a do it yourself (DIY) home security system.  A DIY home security system is actually simpler than you might think.  You can arm your home by purchasing inexpensive outdoor or indoor cameras/motion detectors, wireless door sensors and by upgrading your hardware locks.   Motion detectors usually have a range of about 40 feet and can pick up body heat and movement.  Some of the new units are also pet friendly as they can be set not to pick up small animals.  Motion detectors can offer intrusion protection from heat, motion and even carbon monoxide fumes.
Having eyes and ears in many places at once will only assist you in keeping your home safe, so why not invest in some monitoring systems.  Some cameras systems can even record data which can help in prosecuting criminals and are admissible as evidence in most courts. Interfacing a video recorder with a television monitor will give you a simple way to monitor your home.  If you have a pool, this is particularly important in taking steps towards safety and security.
A great convenience and peace of my mind for on the road travelers is that you can link your home security monitoring system to real time pictures of any of your monitoring cameras.  So you can essentially monitor your home from the comfort of your laptop and also review any recent action from those cameras while you were gone.  Welcome to the future of home security monitoring.
Home security systems have come a long way in recent years and are constantly introducing new high tech security features for homeowners to use in their defensive arsenals.  Generally speaking, today's home security systems even utilize a battery backup system in case of power loss.  This ensures the homeowner that protection will still be provided even when the power goes out.  Wireless home security systems are easier to maintain than hard wired systems and batteries can be changed out inside one main control unit.  8 out of 10 homes are broken into by kicking in a door. Another easy thing you can do to protect your home is to reinforce your door casings with stainless steel.  This simple installation can reinforce your already existing deadbolt system.
Arming your home has never been easier or more cost-effective if you know what to look for.  The importance of having a wireless home alarm system can pay in huge dividends of peace of mind and having the satisfaction of knowing your doing whatever you can to protect your home and family.
Photo via Zephyr Homes