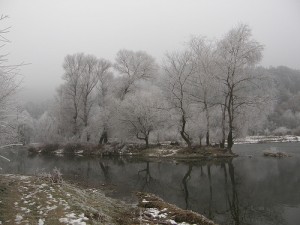 Winter's approaching fast, and in some parts of the country, folks are already having firewood delivered and rummaging through their garages for chains for their tires. Of course, savvy homeowners are preparing their home security systems for the challenges winter brings as well. If inclement weather can close everything from schools to roads in the climate in which you live, imagine what it can do to your home security system, during storms, extreme temperature changes and massive power outages. Whether you're facing your first New England winter, or know exactly where to go to have your snowshoes restrung, what follows is a winter checklist that all home security system owners would benefit from reviewing carefully.
Make sure that all doors and windows close and lock snugly, to prevent them from rattling, blowing open, or off, in a storm, and causing a break in contact which in turn sets off a false alarm.
Install a low-temperature monitoring system to alert you when temperatures become dangerously low. Extremely low temperatures can freeze and burst your pipes, resulting in costly water damage that can ruin a home's structural soundness if not detected and repaired in time.
Don't wait for spring. Clean the interior and exterior of your house, including the gutters and drains, to prevent the build-up of frozen debris that leads to water backing up under your roof and into your house.
If you live in an area that suffers from spring floods, make sure to install a flood monitoring sensor to alert you or your monitoring company in the event of a flood. If you have a mobile phone that allows it, you can connect your flood monitoring sensor system to your smart home security system and have alerts sent to your phone in case you're away.
Before the weather gets too bad, have your landscaper winterize all your shrubs, bushes and trees to prepare them for winter storms. Shrubs and trees that look healthy in the summer, can decline quickly under the weight of snow and ice, and result in falling branches and tree limbs that can do severe damage to your home.
Prepare an emergency survival kit in the case of heavy snow or ice storms that can close roads and stores, and knock down power lines, for extended periods of time. Remember to include a flashlight with batteries, a fully-charged and working cell phone, a first aid kit, thermal blankets, plenty of bottled drinking water, and energy bars.
Photo via Klearchos Kapoutsis