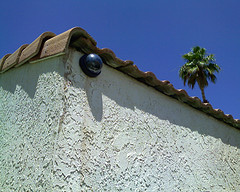 American homeowners take great pride in their homes, and so do the companies that are responsible for designing and constructing them. Each year, an annual New American Home (TNAH) is showcased to celebrate the industry of home construction at the International Builders Show.
This year's New American Home, designed by The Studio, was built with the latest technologies, including green construction, aesthetic design, and a state-of-the-art home security system. Usually, TNAH is built first, then sold after its presentation to the building industry. This year, the scenario is different.
The New American Home 2011 was custom-built by Continental Homes per its new owner's request and designated to be in full use as a residential property after its presentation. The owners had very definite requirements about the design, layout, energy efficiency, and home security system, and assembled top-notch companies to contribute to the project.
One of the main goals of the home was to achieve an Emerald certification under the National Green Building Standard, which meant that it had to be designed to offer maximum energy efficiency while still maintaining enough power to run a centralized automation, lighting, and home security system. Fortunately, the result was spectacular, and this year's New American Home has won great acclaim. Some of its more innovative features include a solar assisted HVAC system and a solar hot water heater with a gas backup, a greywater recycling system, hydronic air handlers, and so-called "intelligent" fire places. In addition, the home's motorized draperies, integrated music system, and lighting controls are all connected by an automation system provided by Control4 of Salt Lake City, Utah, which also integrated the solar assisted HVAC and solar power systems.
The home's high-tech home security system was provided by Electronic Creations of Orlando. Electronic Creations structured the home's wiring, and made sure that all elements of the home automation system, including the home security system, were integrated.
Perimeter security, an advanced burglar alarm, and smoke detectors are connected to a central system that's programmed to send automatic notifications to the homeowners' cell phones and laptops when they're away. With Mira Premium Series windows, which are impact, mold, and insect resistant, as well as energy-efficient, the New American Home's weak spots are completely secure. It's clear. If you're looking for the best, safest, and most durable way to build a home, or if you're looking to make structural improvements to your existing home, you might want to check out some of The New American Home's features.
Image credit