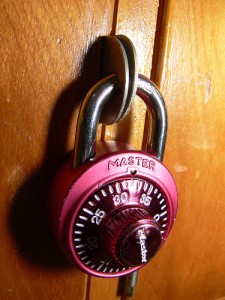 While most people think a home security system means hundreds, if not thousands of dollars worth of investment, it's a little known fact that there are many simple and low cost enhancements you can make to improve your home security system. The following list of home security gadgets, retailing for $20 or less, make for surprisingly effective improvements to your home security system.
Door stop alarm: one of the most effective low cost home security gadgets, the door stop alarm is a mini home security system in one.  Place it against a door, and if a burglar tries to enter, the door stop wedges underneath the door and prevents it from opening further. In addition, the alarm sounds to warn you and deter the burglar. These effective home security gadgets are equipped with sensitivity switches you can adjust to program the amount of motion needed to set off the alarm, and are especially useful for apartments, hotels and dorms.
Fake home security camera: it's a proven fact that even a fake home security camera can deter criminals and act as a significant addition to your home security system. These home security gadgets are extremely realistic, with some featuring a blinking LED light and side-to-side surveillance motion. Enhance your home security system by mounting one of these home security gadgets at an easily detectable spot in or outside your home.
Home security system stickers and home security yard sign: quite possibly the cheapest of all home security gadgets, these simple additions to your home security system warn burglars that your home is protected by a home security company. Place these home security gadgets in plain view on your windows and in the yard to deter criminals from entering your home.
Mini magnetic contact alarms: these wireless home security gadgets are about 2.5 inches long and can be easily and quickly mounted on doors and windows as an enhancement to your home security system. The magnetic sensors detect any opening of the door or window and sound a high pitched alarm to scare off intruders and warn you of a threat. These effective home security gadgets can not only be used to enhance your home security system, but also to secure medical cabinets from children.
Combination lock: surprisingly, this could be the most effective of all home security gadgets. The majority of burglars use a homeowner's own tools to break into a home. To avert this threat to your home security, buy a combination lock or padlock to put on your toolbox if you leave it in the garage or outside.
Photo via danmachild