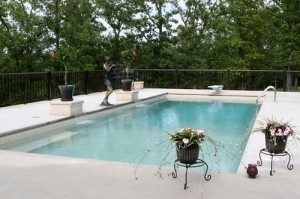 Even if you've invested time and money in a sound home security system, if you're a homeowner with a pool in your back yard or inside your home, your home may be unsafe for your children. Though everyone enjoys relaxing by the pool on an afternoon off, you might not be aware of the fact that in the United States, drowning in a private pool is one of the leading causes of injury-related death for children between the ages of one and fourteen. No matter how much you try to look out for your child, an accident can happen quickly and can have devastating, and sometimes lethal, consequences. And just like your home security system, taking precautions to improve security around your pool with a pool safety net and equipping it with an pool alarm system, is a wise investment for your safety, and that of your family.
The first thing to do is to purchase a pool safety net and have it installed by a professional. A pool safety net is constructed of a fibrous net that covers the full surface of your pool, and can carry up to 300 lbs. of weight. The perimeter cord is designed to maintain the pool safety net's tautness. Though some may be concerned about the gaps between the net's fibers, with a maximum size of four square inches, they're far too small to let even a small child through. If your child falls on the net, it will get wet and may poke a limb through one of the gaps, but its body will be suspended above immersion level and won't sink. Though the price of a pool safety net is relatively high, ranging from $6,000 to $9,000, it's well worth the price to protect your family.
In addition to a pool safety net, it's wise to install a pool alarm as part of your home security system. A pool alarm uses an electronic sensor to monitor your pool, and every entry into the pool triggers an alarm both at the pool and inside your home. The pool alarm is mounted on the pool deck and can't be deactivated after installation. When you want to use the pool, you put the alarm in sleep mode. If anybody who doesn't know how to activate the sleep mode tries to remove the alarm, the alarm sounds. This extra precaution is designed to prevent children from using the pool without proper supervision.
Photo via Viking Pools