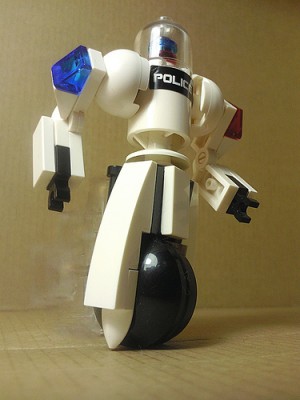 Though the world of home security systems is ever-evolving and new, high-tech equipment is being developed every year, one of the most exciting – and fun – developments of 2010 was not invented by a home security professional, but by a resourceful resident of Florida who couldn't find quite what he wanted in the store.
Robert Oschler, who works as a programmer in Florida, wanted a more versatile and focused way of seeing what was happening in his home while he was away. So he went to the toy section at his local department store and bought a Rovio, a WiFi-enabled mobile webcam robot. Back home, he took it apart and adapted it to suit his needs and fit seamlessly into his home security system.
Oschler enhanced the video and audio qualities of the robot's camera, microphone and speakers, and modified its software to program specific routines that enable the robot do perform security checks throughout his house. Now, whenever he's curious about what's happening at home while he's away, he uses his laptop to go online and simply steers the robot through his house. The robot's smooth navigation, combined with its excellent video and audio capabilities, allow him to see and hear exactly what's happening in every corner of every room.
This quirky, yet highly effective addition to your home security system might sound like something out of a science fiction movie or a high-tech military outfit, but is actually extremely affordable for any homeowner who doesn't mind spending a bit of extra cash for the added security. The total costs of a home security robot like this come to just under $1000, and Oschler himself generously offers his improved Rovio software for free on his website.
Oschler is just one of the many home security enthusiasts that experiments with modifying toy robots to guard their homes, though he's probably the most successful. All over the world, amateur programmers and engineers spend hours working to turn their toys into functional gadgets, and many share their latest inventions on websites like robotcommunity.com. Some of them even are even working to amp up Oschler's robot's capabilities. Reportedly, a programmer in China has added fire detection software, along with a tiny fire extinguisher to his Rovio. And according to Peter Redmer, robotcommunity.com's manager, there will be more to come, with members experimenting with improved virtual control for the camera and night visibility equipment.
Photo via ptroll