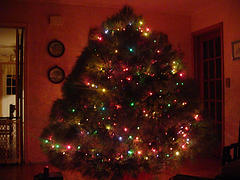 Around the holidays, hundreds of thousands of Americans love to decorate their homes inside and out. And though this is a heartwarming tradition, sadly, it is also one that can place you, your loved ones, and your possessions at risk. Every year, candles start over 11,500 fires in homes. People are tired, perhaps a bit buzzed, and they forget to put out candles. If the flame catches for any reason, there's usually plenty of fuel for the fire: Christmas trees, cards, and decorations are all highly flammable. Some fires are prevented from spreading because the homeowners had adequate home security systems, but on average, fires like these cause 150 deaths, 30 injuries, and more than $10 million in property damages and losses each year. Fortunately, nearly all of these fires can be prevented with some common sense and a bit of preparation.
Always make sure you have a working home security system with an integrated fire alarm. Remember to activate it before you go to sleep and when you are away, and never give the code to somebody you don't trust.
Remember to put out candles before you go out or to sleep, and never leave burning candles where you can't see them. If you have young children, or animals, place all candles well out of their reach.
Buy holiday lights that have been tested for safety by a recognized testing laboratory, and check each one of the lights individually before using them. Replace broken or cracked bulbs or sockets.
If you buy a Christmas tree, make sure it is fresh and not dry. Place it well away from your fireplace, candles, or radiator.
If you buy an artificial tree, check to see it is fire resistant. This way, the tree will not place you at a higher risk in the event of a fire.
Likewise, use flame-resistant and non-combustible materials to trim your tree. You can find many decorations made of plastic and non-leaded materials.
It might look great in the old movies, but real candles in a tree are extremely dangerous. Use artificial candles, or multi-colored Christmas lights.
Choose your Christmas decorations carefully. Decorations with sharp edges, or glass decorations that easily break, can be dangerous to young children.
If you use artificial snow sprays on your windows or other parts of your home, follow all instructions carefully to avoid breathing problems and lung irritation.