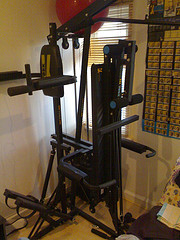 Both a luxury and necessity to many, the home gym has become one of the most important rooms in the house for those who love to make fitness a part of their lives. It's convenient, it's private, and most importantly, you feel safe there. Of course, other than the garage, it is the one room in the house that needs adequate ventilation, contains heavy equipment that could be used to facilitate a burglary, and is only used intermittently throughout the day. However, because many people like to have windows or a sliding door in their home gyms to enjoy some fresh air while they work out, it's also often a vulnerable spot in their home security system. It's all too easy to work out with the window open, then go take a shower and leave for work. But did you remember to close that window, or is it still open and offering easy access to a potential burglar?
Securing your home gym is as much common sense as it is technical. Before you install your home security system, make sure that you take into account how much ventilation you need in your gym, and how you will make sure all windows or doors will be secured. Glass break sensors are a great way to alert you to a burglary, but you will have to be consistent in closing and bolting all windows and doors after your workout. And just like you should never leave your tools out in your garage, it's a good idea to lock your weights and other workout equipment away when you're not using them.
It's also responsible to install at least one home security camera in your home gym. Because it's not in use all day, burglars could target your gym as their point of entry, and if they manage to breach the outer layer of your home security system, at least the cameras will register them once they're inside. For your convenience as well as safety, it's smart to use an app for a remote home security system that allows you to lock windows and doors, as well as that alerts you to any breaches in your home security system. This way, even if you get sidetracked after your workout, or if your partner always forgets to activate your home security system, all you have to do is check your smart phone to make sure your home gym security is as fit as you are!
Image credit