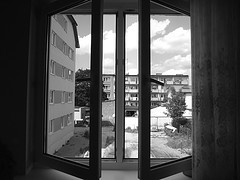 The man who got the world to spill the beans about their private lives has just found out what it feels like to have his own privacy violated. Facebook chief executive Mark Zuckerberg, named "Man of the Year" in 2010 by Time Magazine, recently moved into a new house. Amidst all the attention he's been garnishing in recent months after the release of the movie "The Social Network," he appeared to be trying to keep his new address a secret.
However, when a Craigslist ad putting his former home up for rent appeared on the Internet, and observant neighbors noted the presence of Zuckerberg's black Acura Sedan in the driveway, his new residence wasn't at all difficult to figure out. Hours later, news was leaked that the 26-year old CEO's new house was just seven blocks away from his former home in Palo Alto. Fortunately, the new residence has a great home security system so Zuckerberg is well protected.
Everybody needs a good home security system, and when your company is worth $50 billion, like Facebook, you want to make sure you have the best customized home security system available. But it remains a mystery how somebody as Internet savvy as Zuckerberg could have missed his own breach of security that gave away his new address. Being safe in your home isn't just about a good home security system, it's also about common sense, and leaving telltale signs on the Internet is not exactly smart for the world's youngest billionaire – unless, of course, he planned it that way.
Zuckerberg's not the only person in the world to experience a breach of security through careless use of the Internet, though he's probably one of the most famous. Every time you upload a photo of your home that's been taken on a mobile phone, you risk including the tracking code of your location at the time the photo was taken – even if you're careful not to include street names. Anybody looking for you who knows how to access that information can find you. A thief might see a photo of your car on your Facebook page or any other social network site, decide he wants it, and simply track you down. It's evident that posting any personal information, not just your social security number and drivers license, on the Internet can come at a great risk to your privacy and safety. For the security of you and your family, always be aware of the sensitivity of the information you upload and share.