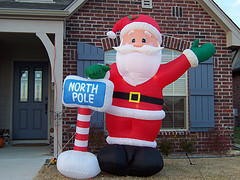 Every year, police departments all over the United States receive calls from shocked homeowners whose outdoor holiday decorations, such as lighted reindeer figures, inflatable Santas, and plywood cut-out elves, have been stolen or damaged despite outdoor home security systems. It's sad but true: despite the fact that holiday decorations have little fencing value, there are Grinch-like vandals and criminals out there who enjoy stealing Christmas. On the bright side, unlike a breach of your indoor home security system, the theft of your outdoor holiday decorations is hardly ever a life-threatening event. However, it is unsettling, and replacing your stolen decorations will cost you money. In Texas, the local law enforcement agencies have come up with some great tips to protect your holiday yard decorations from theft.
If you use plywood cut-out decorations, the best way to secure it is in the ground. Get a quarter- or half-inch thick conduit pipe, and drive it approximately one foot into the ground. Next, use the conduit strap to fasten it to the plywood. For added peace of mind in case the decoration is stolen after all, use a permanent marker to write your 8-digit drivers license number on the back. (Remember never to use your social security number!) This way, if it's retrieved, the police will know to whom the decoration belongs and return it to you.
For lighted figures such as reindeer and polar bears, you'll need a long tent stake and a strap. Fasten the strap to both the lighted figure and the tent stake, and drive the stake into the ground. Use a metal engraver to mark your drivers license number on the decoration, or a permanent marker if the decoration is made of plastic.
Inflatables are one of the most targeted holiday yard decorations, so you'll want to secure these extremely well. Make sure to secure a strap to the inflatable, and attach it to a long tent stake, which you then drive into the ground. Again, use a permanent marker to write your drivers license number on the decoration.
Remember, many homes are broken into during the holiday season each year, causing thousand of Americans incredible stress, as well costing them thousands of dollars. Don't let burglars, vandals, or other criminals spoil your holiday season! Make sure your home security system is properly installed and always activate it when you're asleep or away!